Nonprofits Awarded Grant For Calaveras Youth Health Initiative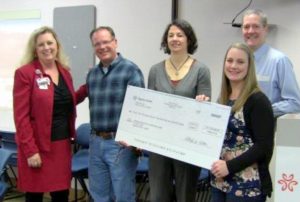 Nicki Stevens, Marketing & Business Development Manager MTMC; Kevin Hesser, Calaveras Unified School District- Garden's to Grow In; Katie Lackler , Calaveras Youth Mentoring Program; Cheree Munoz, Executive Camp Director of Dream Mountain Christian Camp; Bob Diehl, MTMC CEO/President

View Photos
San Andreas, CA — Five nonprofits are gearing up for a project that will address locally unmet youth health needs with over $32,000 in their coffers, courtesy of Dignity Health Mark Twain Medical Center.
MTMC officials today announced that Calaveras County Behaviorial Health Services, Calaveras Youth Mentoring Program, Dream Mountain Christian Camp, Garden to Grow, and Horse Speak Center will be receiving a total of $32,701 as the 2017 recipients of the annual Dignity-MTMC Community Grant awards program.
Through a multi-agency and multi-dimensional approach the five organizations, working under the auspices of the Calaveras Youth Health Initiative (CYHI), plan to address the mental, emotional and physical health of youth in Calaveras County by empowering them to support their own health and help mentor their peers to do the same. Three different programs are outlined: youth retreats at Dream Mountain Christian Camp; garden-based nutrition education programs through the county schools; also community-based mentoring within the Calaveras Youth Mentoring Program.
Dream Mountain Christian Camp provides retreat facilities and recreational experiences to schools, churches, and other like-minded organizations, specifically targeting underserved populations to address a need; also sponsoring campers who would not otherwise be able to attend. Through its garden-based nutrition education programs Garden to Grow In locally supports and promotes healthy and sustainable lifestyles, youth development, community involvement and self-reliance in schools and communities by teaching children and families how to grow and prepare healthy food. Horse Speak Center is a certified equine-assisted counseling and learning center that provides emotional support with the help of horses and therapy animals.
To date, the community grant awards program has funded over $380,000 to various organizations across Calaveras County. In order to qualify, submitted project or program proposals must respond to local health priorities identified in the hospital's community health assessment or benefit plan and additionally must involve at least three other organizations within the community. IN this most recent grant cycle, the MTMC Executive Leadership Team received six proposals requesting a total of $116,402.