Much Of Mother Lode In Moderate Drought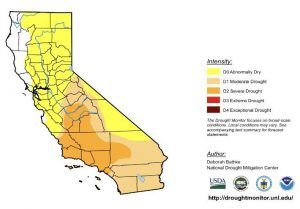 California Drought Monitor Map

View Photos
Sonora, CA — The US Drought monitor has released a new map showing nearly half of California is in the midst of drought conditions.
47-percent of the state is in at least a "moderate drought," according to the new report, including most of Tuolumne County and all of Mariposa County. The only part of Tuolumne County not considered in a drought is along the northwest edge. Calaveras and Amador counties are not yet in a drought, but they are considered "abnormally dry."
19-percent of the state, around the greater Los Angeles region, is in a "severe drought." If more precipitation arrives later this week, and more during the month of March, it could help turn the tide.
Researchers review items such as rainfall, snowpack, local stream flow and others when determining if an area is in a state of drought.