Sheriff Alerts Drivers To Vehicle 'Break Ins'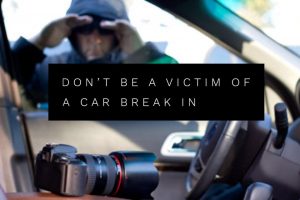 Do not be the victim of a vehicle break-in TCSO

View Photos
Sonora, CA — Short of giving thieves an open invitation to plunder their belongings, several recent crime victims shared one thing in common: they all left their vehicles unlocked.
According to Tuolumne County Sheriff's spokesperson Sgt. Andrea Benson, thieves entered several vehicles this week in the Jametown area, mainly on Jamestown Road, Chicken Ranch Road and Seco Street. She warns. "These vehicles were all left unlocked and valuables such as wallets and important paperwork were taken, so we want to remind people to lock their doors and always remove items of value…not leave anything visible in your vehicle."
Due to these incidents, her office is providing some further tips that might help drivers avert being targeted and discourage would-be thieves. "Keep [your vehicle] clean and tidy so there is not much for them to look through or see as an opportunity to look inside. Things like coins, sunglasses and empty shoppung bags may tempt a thief to check out your vehicle," she advises.
Too, she adds, "If you are going to leave something in your trunk — make sure your do that before you arrive at your destination — because sometimes putting items in your trunk while you are in a parking spot might tip off a thief that you may have something to steal in there."
When parking vehicles, even at home, sheriff's officials say drivers should ensure that they are in a well-lit area where it is hard for shady characters to hide and not be seen. Above all she emphasizes, "If you do see something happening — somebody loitering around vehicles, peering in or you do witness a break-in — call us immediately."
Benson says in theses cases it is key to provide law enforcement with as much information as possible, including the location of the incident or observation; also a detailed description of the thief (gender, race, age, height, weight, hair color and length, type of clothing and if you see any identifying marks such as tattoos). "If they do leave, give us the direction of travel — that gives deputies a chance to be on the lookout as they are heading into this area — and also tell us if they end up leaving in a vehicle or on a type of a bicycle," she states.
In all, it is good common sense to take some simple precautions, Benson says, because it could prevent many folks from becoming victimized. As she points out, "Like mail thefts, when [thieves] are driving around they are looking for crimes of opportunity, so…don't make it easy for a thief."