Feinstein Disappointed With President's Infrastructure Plan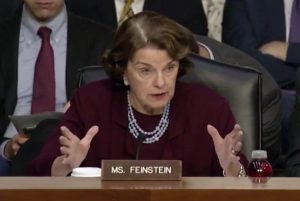 California Sen. Dianne Feinstein

View Photos
Washington, DC — California's senior US Senator Dianne Feinstein will not support President Donald Trump's infrastructure improvement plan.
The 53-page proposal, released Monday, calls for investing $200 billion in federal funds, and leveraging state tax money and private investment, to total $1.5-trillion. President Trump says, "For too long, lawmakers have invested in infrastructure inefficiently, ignored critical needs, and allowed it to deteriorate. As a result, the United States has fallen further and further behind other countries. It is time to give Americans the working, modern infrastructure they deserve."
Democrats introduced a competing plan yesterday that would bump federal spending up to $1-trillion.
Taking issue with President Trump's proposal, Senator Feinstein replies, "Much of the plan focuses on raising new taxes and tolls while weakening environmental protections and climate change programs. Worst of all, the plan does little to address our growing backlog of maintenance and safety repairs. This is particularly egregious for California, where many of our bridges, dams, aqueducts and transit systems are desperately in need of maintenance. The president's plan ignores the commitments we've already made, instead steering federal funds to projects that raise new money through mechanisms like taxes or tolls."
There have been no signs to this point that there could be a compromise on infrastructure spending in the near future.