54 Bookings Into Mother Lode Juvenile Detention Facility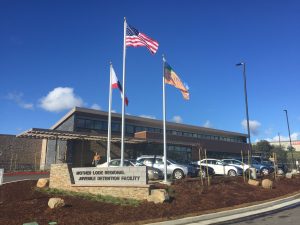 Mother Lode Regional Juvenile Detention Facility

View Photos
Sonora, CA — It has been 10 months since the first youth inmates arrived at the Mother Lode Regional Juvenile Detention Facility in Sonora.
Clarke Broadcasting requested the latest statistics regarding the facility, and Chief Probation Officer Linda Downey reports that 54 bookings have occurred since the doors opened this past April. 44 have been residents of Tuolumne County, four from Calaveras, four from Mariposa and none from Amador.
The average number of monthly bookings is 5.4, with the highest being 12 in November, and the lowest was two in April. The most juveniles held at one particular time was 11 in November and the lowest was two in April. The average daily population is 5.7 and the average length of stay is 44.1 days. Of note, this morning there are seven juveniles booked into the facility.
Downey notes that three high school diplomas have been issued via its educational program, and an additional one is pending completion at the end of this month.
Community partners involved to this point include fifteen religious service volunteers, the Master Gardeners, raising chickens with 4-H, meditation with a community volunteer, a library program with volunteers, a culinary program with a volunteer/business owner and an art therapy program with a community volunteer.  Downey says proudly, "Together, the community is changing lives and providing very positive experiences for our youth."
She says the recidivism rate to this point has been very low, as only a couple have re-offended, which she finds to be "very encouraging." 45-percent of the youth that entered the facility have reported feelings of "self-harm," and 61-percent reported substance abuse issues.
The facility has 14.5 full-time equivalent staff members, and a budget for the current fiscal year of around $1.5-million. Downey reports the facility is staying within budget and she continues to look for creative ways to increase revenue.
The juvenile hall is 24,630 sq. ft. and has 30 beds, it was the first project completed at the law and justice center site off Old Wards Ferry Road. Click here to view a story from earlier this week regarding the ribbon cutting for the nearby future jail.