Longtime Sonora Mayor And Council Member Passes Away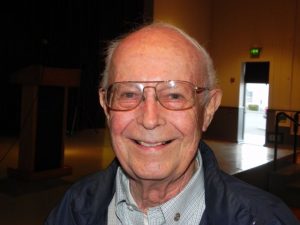 Ron Stearn

View Photos
Sonora, CA — Sad news today as longtime former Sonora Mayor and Council member Ron Stearn has died at the age of 89.
Terzich & Wilson Funeral Home officials report that he passed away this morning at his daughter's home in Fairfax, which is in Marin County. Stearn's career with Sonora City Council spanned more than 52 years. He was sworn into office in April of 1964 and retired from the council while in the role of Mayor on July 5th, 2016, as reported here. During that run he was elected the Mayor of Sonora five times with the last time being in July of 2014 for a two year term. California records marked that Stearn set a record for longest time served on any City Council.
City Administrator Tim Miller who worked with Stearn for six years  called him the consummate council member, stating, "I'll remember him as a person I could go to as a resource with a lot of history and knowledge of the city. Someone who would tell you what he thought was best for the city and do it with all of the sincerity that he had. He was on the council to do his best job to serve the city as well as he could."
One of Stearn's pet projects and something he was very vocal about was additional parking in the downtown area. Sonora Council member Connie Williams, who became Mayor when Stearn stepped down, remembered, "Another thing Ron complained about was the brightness of the street lights. If I didn't hear it once I heard it a half-a-dozen times, 'When are we going to get brighter street lights?'  Well, isn't it interesting that we got our bright street lights the day he passed." She added, "The simple things is what Ron was all about. The things that made peoples lives better."
Stearn was born on July 22nd, 1928 in Oakland. Private burial will be in Mt. Shadow Cemetery and a Memorial Service will be held at a later date.
Of note, Mayor Stearn was interviewed on Mother Lode Views in August of 2014 where he spoke in detail about his over 50 years of service on the city council. You can find it here.