Williams Is Sonora Mayor: Stearn And Canning Honored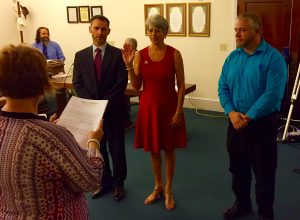 Swearing in For Mark Plummer, Connie Williams and Matt Hawkins

View Photos
Sonora, CA — The City of Sonora has a new Mayor.
Connie Williams was selected unanimously last night to fill the role over the next two years.
She says, "I'm honored that my former councilmembers, and new council, have the faith in me to lead as the Mayor."
Williams becomes the third female to serve as Sonora Mayor, following Liz Bass and Marlee Powell.
As for challenges that lie ahead, Williams says, "The biggest issue is finances. Looking at the financial health of the city, it looks like things will be pretty flat over the next five years. Hopefully that will change, but we don't have a crystal ball to determine that. There are a lot of things that we need to do, and a lot projects, and we have to figure out how to get those done with a very limited staff."
A swearing in ceremony was also conducted for Williams, Mark Plummer and Matt Hawkins who were elected last month.
Special recognition was given to outgoing Councilman Ron Stearn for his 52 years of service and Bill Canning for 10 years. Several of Stearn's old friends and colleagues were on hand. He said afterwards, "I never thought there'd be that many people here. Especially Betty Castle, she swore me in, in 1964."
Stearn and Canning were given plaques from the city to thank them for their service.
Also of note, the council selected Jim Garaventa as Mayor Pro-Tem for the next two years.