Brighter, 'Green' Streetlights Coming To Sonora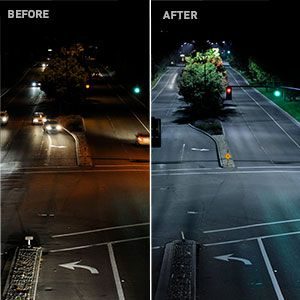 Before and After Example Photos of PGS Streetlight Upgrade Project

View Photos
Sonora, CA — City officials, partnering with PG&E, are embracing a project aiming to save energy dollars as it also turns up the lights for the sake of increased public safety.
According to PG&E spokesperson Brandi Merlo, the effort, which has been underway since early January and is expected to finish up before the end of February, focuses on converting streetlights across the city from older high-pressure sodium vapor light bulbs to state-of-the-art LED (light-emitting diode) lamps. The conversion is part of an initiative approved by the California Public Utilities Commission (CPUC) to promote safety and energy efficiency in public lighting.
"LED streetlights last four times longer, so the City of Sonora will see a benefit from a significant reduction in maintenance and replacement costs," Merlo explains. Upfront, she says it is estimated that related greenhouse gas emissions should lower by more than two-thirds — and result in an initial annual savings of about $7,300 in power costs to the city.
The scope involves about 410 PGE-owned streetlights. "We are not modifying any existing poles but in addition to those cobra-head upgrades, we are upgrading the post-top decorative lights in the downtown area to energy-efficient LEDS," Merlo further states, adding that while the new LED lighting will appear a bit different and brighter, similar improvements are also being made across PG&E's service area. Too, she shares, there are variations of LED colors available that the city could choose from.
As far as impacts to local residents, Merlo maintains, "Customers will see bucket trucks belonging to our contractor, Advanced Lighting, with crews of typically one to two people changing out the bulbs or the lamps. We don't expect any effect on parking or traffic and the contractors do not need to access customers' properties to complete their work."
So while folks may well see workers switching out bulbs for the next few weeks, it is not anticipated that these chores will create any negative impact, and literally, the brighter side, soon to come, will be a better-lit, somewhat more energy-efficient city.