Update: Meager Sierra Nevada Snowpack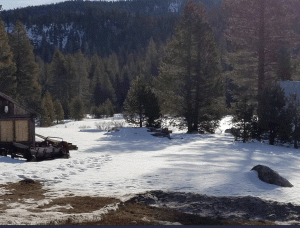 February 1, 2018 snowpack at Phillips Station

View Photos
Update at 1:06 p.m.: While state meteorologists have cautioned that it is still too early to tell if Northern California is heading towards another drought, a U.S. agency is reporting up to a quarter of the state's population is now experiencing moderate drought conditions.
The U.S. Drought Monitor in its weekly report today indicated that, according to its measurements,  Santa Barbara, Ventura and Los Angeles counties — where collectively about 25 percent of Californians reside — are within a moderate state of drought. The finding is a dramatic jump from last week when the figure was just 13 percent.
Original Post at 12:02 p.m.: California Department of Water Resources officials hiked up to Phillips Station near Lake Tahoe this morning to conduct the second manual snowpack reading of the season.
What they found was a mere 14-percent of average snowpack for the season.
Speaking about the recent snow, Frank Gherke of DWR notes, "We did start to get what looked like good storm activity, but now it seems as though the blocking ridge is back in place. The forecast for the next couple of weeks does not indicate that there will be a lot of snow coming our way, but there is still a lot of winter left."
Michelle Meade of the National Weather Service added, "The state as a whole has already had two atmospheric rivers, and we do average five in a winter. So, we still have half a winter to go, so there is still time to see one or two atmospheric rivers, which can make all the difference."
Meade adds that November saw above average precipitation, rain and snow was basically non-existent in December, and January was near average (80-percent).
Electronic sensors are a bit more encouraging than the 14-percent reading at Phillips Station, as they show statewide, the snowpack along the Sierra Nevada is 30-percent of average for the date.