What Is Next For Calaveras County Recalls?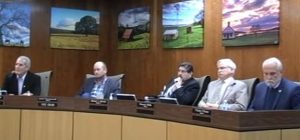 Calaveras County Board of Supervisors at Tuesday's (1-23-18) meeting

View Photos
San Andreas, CA — With three Calaveras County Supervisors and two Calaveras Unified School District School Board Trustees in the hot seats, the county could face a wild ride come election time.
All of the five supervisor's seats could be up for grabs, as reported here earlier this week.  At Tuesday's supervisors meeting, Board Chair and District 1 Supervisor Gary Tofanelli and District 2 Supervisor Dennis Mills were both served "Intent to Recall" notices by citizens incensed about what they called lack of equal representation. Both supervisors recently cast their votes in what became a three-to-two decision to ban commercial marijuana grows in the county. The ordinance, set to take effect within a month, replaces an urgency regulatory ordinance that provided a process to register legal pot grows. Currently another recall petition is already circulating against Vice Chair and District 2 Supervisor Jack Garamendi, who is pro-regulation. Proponents have been given an April 19th filing deadline to collect 1,319 valid signatures to put Garamendi's recall on the ballot.
Commenting on the number of potential recalls, County Clerk and Register of Voters Rebecca Turner comments to Clarke Broadcasting, "I have never seen this many. I want to add that my tenure is fourteen years."
She adds, "If the recalls make it to the ballot, we'd have five supervisors on the ballot, which is kind of crazy, considering we just had four new supervisors installed recently." She is referring to the fact that District 3 Supervisor Michael Oliveira and District 5 Supervisor Clyde Clapp, are up for re-election this year. Candidates vying for Oliveria's seat include Merita Callaway and Terrence (Ed) Langan, while Clapp's prospective challengers are Bruce Giudici and Benjamin Stopper. Turner notes, however, that there is still time for other candidates to jump into these races.
Recall documents turned into the county's election office show that among those leading the petition against Mills is La Folia Wines proprietor Ryan Teeter of Angels Camp, along with Tom Tryon, a former supervisor and grower, among the initial signers. John Ertel of Valley Springs is the lead signature on the Tofanelli recall; others include former District 1 Supervisor Cliff Edson, who Tofanelli defeated in the last election, and Sharon Romano, who also ran in that race.
Turner reports that both petitions have been filed in her office and explains the recall process, "Once we receive it [the petition] the officer sought to be recalled has seven days to answer. The proponents will need to publish their notice of intent and then they're required to put together a petition that includes the notice and the supervisors answer. Then they submit it to us for approval and we're looking to see if it meets election code requirements. Once we sign off of on all of that, we give them the go ahead to start circulating." She adds the petitioner has 90 days to collect signatures.
When a recall is placed on the ballot, there is then a filling period for challengers, according to Turner, who adds that voters will be asked if they want to recall the supervisor or vote for one of the other candidates listed. If the recall succeeds, but there are no challengers, then the Governor must appoint someone, notes Turner.
Additionally, there are two active recalls for Calaveras Unified School District Trustees. Turner cites that parents upset with the way the district is being run filed those petitions, which are against Trustee area 1 Sherri Reusche and Trustee area 3 Dennis Dunnigan. Turner details that Reusche's recall is currently in circulation and due back on March 9th, while Dunnigan's, once approved by her office, will have 60 days to collect signatures.