Cash Reward Offered for Wanted Calaveras County Man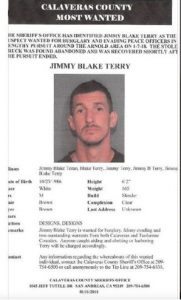 CCSO Most Wanted Posting for Jimmy Blake Terry

View Photos
Arnold, CA — The Calaveras County Sheriff's Office is offering a $5,000 reward for the arrest and conviction of one of its most wanted suspects.
As reported here yesterday, Jimmy Blake Terry is being sought in connection with a recent burglary and leading deputies on a chase in a stolen pickup in the Arnold area. Terry has several other outstanding arrest warrants in both Calaveras and Tuolumne counties. Investigators did not release further details surrounding those warrants. A private anonymous party donated the cash reward to the Friends of the Calaveras Sheriff's Office, according to sheriff's officials. The group is a nonprofit group that supports the Sheriff's Office programs, projects and equipment.
Anyone with information regarding the whereabouts of Terry is asked to contact the dispatch center at (209) 754-6500. Sheriff's officials explain that information received from the public will be given a tip tracking number by the dispatch center and that will be used to claim the reward if it leads to Terry's arrest and conviction.