State's Largest Fire In Modern History Contained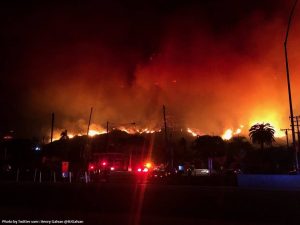 Thomas Fire

View Photos
Ventura County, CA – CAL Fire reports the deadly Thomas Fire that claimed the life of two people including a firefighter with ties to the Mother Lode has been extinguished.
The massive wildfire that led to this week's destructive debris flows in Montecito, California, is finally 100 percent contained.
U.S. Forest Service officials report aerial surveys of the 440-square-mile burn scar left by the flames that ripped through the area confirmed the fire's containment. The fire erupted December 4th in Ventura County, destroying over a thousand homes and killing two people, a woman fleeing her home and a firefighter from San Diego, 32-year-old Cory Iverson. As reported here Thursday, CAL Fire released a preliminary report on how Iverson died. He had ties to Tuolumne County as he worked at the Columbia Air Attack base for a year in 2015.
The flames eventually spread into Santa Barbara County. This week in Montecito torrential rains caused flash floods resulting in massive mudslides that swept away homes. County officials report 17 deaths and five people remain missing.