Details Released On Firefighter's Death In State's Largest Recorded Fire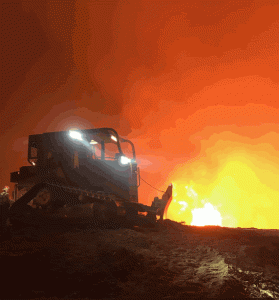 CAL Fire TCU Bulldozer Working At Thomas Fire

View Photos
San Diego, CA — A preliminary CAL Fire report details what led to the death of a firefighter, who had ties to the Mother Lode.
The report pointed to gusty winds during the state's largest recorded fire in history, which fueled the flames as a contributing factor in the death of 32-year-old Cory Iverson. It states that on December 14th Iverson and four other firefighters were laying hose along a bulldozer-created fire break on the Thomas Fire in Ventura County when a spot fire flared up. The winds began fanning the flames and simultaneously several more spot fires broke out cutting off the escape route, according fire officials.
The report goes on to describe that Iverson began running for his life through head-high vegetation down a hill while he radioed for "immediate air support." Two helicopters began dropping water in an attempt to create an escape route for him. The crews indicated that the vegetation was chest- to head-high, stating that in some cases "all that could be seen was the top of his helmet." They reported seeing Iverson fall and get back up again. He eventually became trapped in a dead-end gulch, where his body was found.
Iverson died of thermal injuries and smoke inhalation, according to the report.
The rest of the strike team was able to escape the flames uninjured. As reported here, Iverson has ties to the Mother Lode, in 2015 he was assigned to the Columbia Air Attack base.