Two Neighboring Illegal Grows Discovered In Valley Springs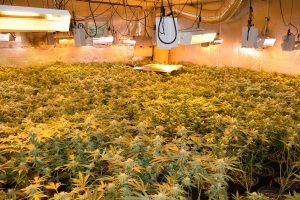 Pot plants seized

View Photos
Valley Springs, CA – Two homes converted into indoor marijuana cultivation operations point to a disturbing trend, according to Calaveras Sheriff's officials.
The unregistered illegal pot grows both located on Greer Way in Valley Springs were raided by the county's Marijuana Enforcement Team during the holiday weekend.  One home held 696 marijuana plants and over 10 pounds of processed marijuana while the other had 47 pounds. Investigators believe the sites were related to each other, although no suspects were found at either one.
This case is still under investigation, but Sheriff's officials are concerned over the recent number of entire homes that are being converted into marijuana grows. Some of the operations have been found running on timer systems with no one physically living in the home to monitor it, which can create a fire danger. For that reason, the Sheriff's office is urging that the public report any suspected illegal marijuana cultivation or concentrate manufacturing sites to call its Marijuana Tip Line at (209)754-6870.