Community Efforts 'Stuff The Bus' To Help Homeless Through Cold Winter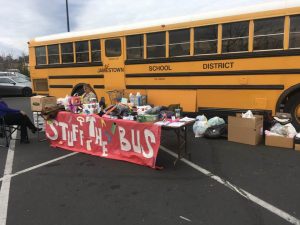 Stuff the Bus for the local homeless Dec 2017

View Photos
Sonora, CA – While overnight temperatures sink into the 20's, hundreds of the local homeless are hopefully feeling a little more warm and cared for right now.
Homeless advocates, adapting from a locally popular "Stuff the Bus" annual back-to-school donations event for needy kids, this past week held a one-day donations drive targeted to help homeless residents over the winter; literally, an often especially cold and harsh time for them.
According to homeless activist Mark Dyken, who also serves as the director of the Jamestown Family Resource Center, the idea came in the wake of this fall's local homeless count conducted across Tuolumne County, as reported here, which indicated over 700 people of all ages – including 177 under the age of 18 — are either living in a shelter or outside.
Dyken shares that the collections day, held Dec. 23, exceeded all expectations. "It was the first time we have done this and I am pretty sure we will do it again," he happily reports.
"The response from the community was tremendous. We really did fill a school bus full of coats, blankets, hats, scarves, mittens and other clothing and various camping gear and things like that," Dyken continues. After sorting it all out, over the past three or four days he says he and others have been busily delivering to and visiting the local homeless shelters and camps. Many of these are located just into and deep in the wooded areas along both sides of Stockton Road as well as between the back of Lowe's and the highway. He describes the response as positive and very impactful.
"We have a lot of people living on the margins just outside of town – hundreds of them. It gets pretty rough, pretty cold outside and each one of these people has a story," Dyken states somberly. After listening to some stories, he began asking for permission to record some of them on his camera phone, where he has been able to capture personal insights about what it is like to be outside and what it was that brought about some residents' current state of homelessness.
He remarks, "It is unfortunate that we often paint with a big broad brush and say 'the homeless' or 'those people'…a lot of them are people who have been injured on their job or are disabled vets." Adding that more outreach is planned in the coming weeks and months as advocates and the City of Sonora seek to better serve this vulnerable population, he continues, "There are all kinds of reasons why people wind up there and it is really hard to get out – so this little bit of kindness was really well received."