Several Considering A Run For Office In Calaveras County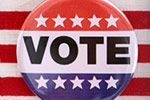 elections

View Photos
San Andreas, CA — Many prospective candidates for office in Calaveras County are taking an early step toward getting on the June Primary ballot.
We reported earlier this week that multiple potential candidates have pulled papers from the Tuolumne County elections office as well, so that they can collect signatures in lieu of paying a filing fee. It is a similar story in Calaveras County, which looks to have a slate of competitive races.
In the District Three Supervisor race, incumbent Michael Oliveira has pulled papers, along with Terrence (Ed) Langan. In District Five, incumbent Clyde Clapp has done so, along with Bruce Giudici and Benjamin Stopper.
In the race for Sheriff, incumbent Rick Dibasilio has pulled papers, along with Gary Stevens. For Assessor, there is incumbent Leslie Davis and Timothy Muetterities. In the Auditor-Controller race, the incumbent Rebecca Callen has done so, along with Robin Danfelt.
Incumbent Rebecca Turner is the only candidate to pull papers in the Clerk Controller race, incumbent Barbara Yook in the District Attorney race, incumbent Scott Nanik for Superintendent of Schools and Barbara Sullivan for Treasurer/Tax Collector.
The period to collect signatures opened on December 14 and closes on February 7. To officially become a candidate they will later need to file a declaration of candidacy and submit nomination papers between mid-February and March 9. In races where no incumbents are running, the deadline will be extended to March 14.