Final Day To Voice Opinion On NPS Gate Fee Hike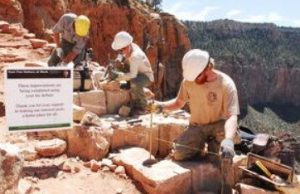 NPS maintenance workers at the Grand Canyon

View Photos
Yosemite, CA – Do not miss your last chance to give feedback on the National Park Services (NPS) push to hike gate fees at parks across the country including Yosemite.
As reported here, after being bombarded with 65,000 written responses, last month the 30-day deadline for comments was extended to today. The proposal involves increasing the price per vehicle at 17 national parks to $70, during peak season. Currently that weekly price is $30. Park service officials estimate that jump would raise around $70-million annually and the funding would be used towards catching up on the estimated $11-billion in deferred maintenance.
The comment period ends at 11:59 pm. tonight. To view a fact sheet with further details and to post a comment, click here.