Mother Lode Resident Elected VP Of California Farm Bureau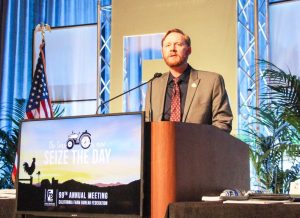 Shaun Crook speaking at the California Farm Bureau Federation Annual Meeting in Garden Grove

View Photos
Sonora, CA — A Tuolumne County resident has been elected one of the vice presidents of the California Farm Bureau Federation.
Shaun Crook has served as president of the Tuolumne County Farm Bureau since 2015. He is a licensed timber operator, VP of a family timber business, and a real estate agent specializing in ranch, commercial and residential properties. He is also a graduate of the Leadership Farm Bureau program, and chaired both the California Farm Bureau Federation's Economy and Farm Policy Advisory Committee and the Commodity Policy Review Committee.
Crook tells Clarke Broadcasting, "A lot of the background I'm able to bring is the perspective of dealing with both state and federal agencies, whether it is from the timber or cattle grazing perspective. That resonated with a lot of folks in our organization. There are a lot of large farms in the valley, and they all rely on water. Two-thirds of the state's water starts right here in the Sierra Nevada. We've been able over the last 10 years to show how important forest management is for increased water supply to all of California and how important forest management is to reducing the risk of catastrophic fire."
The California Farm Bureau promotes the interests of California's agriculture industry and has 40,000 members statewide, and is part of a nationwide network of more than 5.5 million Farm Bureau members.
The election was held at the group's annual meeting in Garden Grove. Paul Wenger of Modesto termed out after serving the past eight years as president, and he was replaced by olive and citrus grower Jamie Johansson of Oroville. The first vice president will be Shannon Douglass of Orland, owner of a ranch specializing in beef cattle, sunflowers, corn and forage crops.  Crook will be the second vice president.