Visiting Economist Discusses Housing Trends, GOP Tax Plan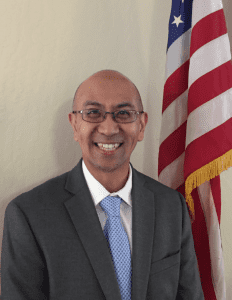 Oscar Wei California Association of Realtors Senior Economist speaker at Tuolumne county Business Council-Associations of Realtors luncheon Nov 15 2017

View Photos
---
Sonora, CA — Local business leaders this week got to hear an expert's insights on the economy, state and local real estate trends — and what average Americans should brace for should Congressional tax reform plans pass.
A packed luncheon meeting hosted by the Tuolumne County Business Council at the Tuolumne County Association of Realtors offices on Wednesday featured analysis and insights from Senior Economist Oscar Wei from the California Association of Realtors (CAR). Wei says the GOP tax reform proposal contains several provisions that weaken the incentive to own homes. The package passed the US House of Representatives Thursday and awaits a Senate vote.
Among the problematic measures impacting the real estate market, according to Wei, are plans to reduce the mortgage interest deduction (MID) cap from $1 million to $500,000 – and to eliminate it on second homes. Too, homeowners would lose the ability to deduct interest on home equity loans and there would be a $10,000 cap on property tax deductions. The reform package would also require owners to reside in homes for five years instead of the current two years in order to avoid paying capital gains taxes; it would furthermore restrict the ability to benefit from such sales to once every five years instead of every two.
Wei notes that should the tax reform package pass as it is currently written, the cost of owning a home will increase in high cost states like California; the new capital gains tax requirement will further constrain the already limited housing supply; home values will also take a hit as tax saving benefits disappear.
The Economy: Doing Better
If it feels like the economy is improving is because, overall, it is, Wei confirms. Nationally, over the third quarter this year, economic growth remained solid — despite the impact of devastating hurricanes Harvey, Irma and Maria — as investment spending remained strong. Like him or not, Wei says, President Trump's "business friendly" climate has encouraged businesses to invest in growing. Impressively, the GDP reflected a three percent increase for the quarter. Consumer spending was up 2.4 percent. While unemployment inched up in August, it still came in near recent lows at 4.1 percent. While nationally U.S. job growth came in up 1.4 percent, in California it was 1.7 percent. Inflation, trending up since July, was up 2.2 percent.
While the economy was sluggish earlier this year, Wei says it began to bounce back in the second quarter and forecasts that it should continue to grow for the next couple more. However, even though the housing market is doing okay now, sales growth is beginning to visibly slow in California due to affordability and supply issues. He also notes that while interest rates are still low they should rise in 2018.
Other Housing Trends
According to Wei, a trend that is likely on the upswing is "out-migration" to more affordable areas such as "outskirt" counties like Tuolumne that are within a couple of hours of a major city. "Ten years ago people would be determining where they wanted to live by going to a place where they could go to find a job. Today it is still the same but with less restrictions, because now you can actually do your work online," Wei emphasizes. "It is not as limited as before because you can be in very remote counties two hours away from where your employer is and still do your work and turn it in."
Statewide, the median price continues to grow. It came in at just under $553,500 in September. In Tuolumne County, according to TCAR, the current median list price is about $315,000 and the average list price is $381,000. While CAR estimates that less than 50 percent of Tuolumne County residents are able to purchase a median priced home, in pricey markets like the Bay Area it is more like 25 percent even with higher salaries.
According to TCAR, in Tuolumne County the average sale price for homes grew year over year from last year by 9 percent to $303,000. Days on the market decreased by two to 127 days on the market. Last year to date there were 732 homes sold versus 815 this year. There are currently 465 houses for sale, representing a five-month inventory. Of these, 250 are in the "wage-earner" price range between $150,000 and $450,000, which is a less than three-month inventory.
Housing Squeeze Starting To Pinch
Along with the improving economy Wei says greater numbers of Millennials and other first-time buyers are entering the housing market for the first time and that household growth rates continue to support housing demand. While sales are improving in mid and high priced segments they are declining at the lower price points due to dwindling supply.
Adding to the housing squeeze, longtime homeowners – especially Baby Boomers — are not moving as much as in the past for a variety of reasons. Among these are wanting to maintain their current lower mortgage rate or property tax payment; avoiding a capital gains hit and/or dealing with finding affordability elsewhere. Heavily contributing to California's housing shortage is a lagging construction pace due to a number of issues with getting projects approved. In fact, projections are that the gap between the state's housing needs and demand will exceed two million units by 2030.
These are all reasons, Wei says, why CAR is proposing a what the group is calling a Tax Portability Initiative. It would allow homeowners age 55 or older to transfer some of their Prop 13 property tax base to a home of any price located in California any number of times. This would incentivize seniors to move and retain some property tax protections while also creating homeownership opportunities for young families.
Wei's Projections For The Year Ahead
Wei forecasts the economy will wind up at the end of 2017 with an overall 2.1 percent GDP that will perhaps improve to 2.3 percent in 2018. He sees nonfarm job growth at 1.4 percent for 2017 declining to 1.2 percent next year. For California he puts the figures respectively at 1.6 and 1.2 percent. Unemployment, which he says will likely end up this year nationally at 4.4 percent will further shrink over 2018 to 4.2 percent. For California, he says the figures will likely be 4.8 and 4.6 percent.
Regarding disposable income, Wei nationally projects a 2.1 percent rise for 2017, further growing to 3 percent in 2018. The California he says the likely numbers will respectively come in at 4.1 and 4.3 percent.
The Consumer Price Index (CPI) he puts at 2 percent for this year and 2.2 percent by the end of next year. As for 30-year fixed rate mortgages, he indicates that the rate will wind up at 4 percent for 2017 and grow to 4.3 percent in 2018.