Tree Mortality Marking Begins In Calaveras County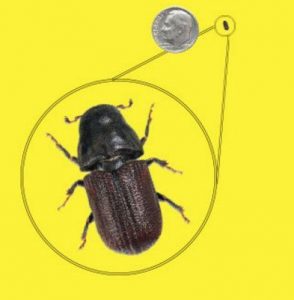 Bark Beetle size

View Photos
San Andreas, CA – The work to clear the dead timber along public roadways due to the drought and bark beetle infestation will begin in the higher elevations but there is no estimated completion date as weather will be a factor, according to Calaveras County officials.
Currently, foresters wearing orange and green reflective vest from TSS Consultants out of the Sacramento can be seen in the Ebbetts Pass and Blue Lake Springs Subdivision. County spokesperson Sharon Torrence indicates that all are carrying Calaveras County Identification Cards around their necks. The foresters will be marking hazardous trees for removal.  Private property owners with trees tagged to come down will receive a property request for entry (ROE) form. Torrence advises that it is critical that owners sign and return the form within 10 days, so trees can be mitigated in a timely manner. There is no cost to property owners as the state is picking up the tab. However, Torrence cautions that those who choose not to have their hazardous trees brought down will be on the hook for damages caused if they do fall onto county roads.
After a significant number of trees have been identified, multiple contractors will begin cutting down the timber, according to Torrence. Motorists may face short delays during tree removal operations. The county will put out a work schedule once the marking is completed. For more information click here.