Community Award Honors Retiring Sierra Rep Founders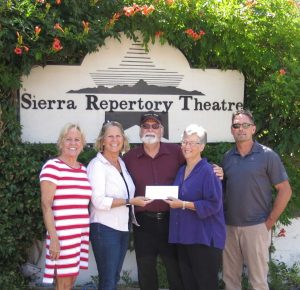 Board members Tracy Russell, Carey Haughy and Dana Mayo of Sonora Area Foundation flank retiring Sierra Repertory Theatre directors Dennis and Sara Jones as they receive the 2017 Irving J. Symons Community Impact Award

View Photos
Sonora, CA – A community foundation has broken with tradition and bestowed — a bit earlier than usual — one of the Mother Lode's most prestigious annual service awards.
According to Sonora Area Foundation Executive Director Darrell Slocum, Sierra Repertory Theatre (SRT) is being honored this month as the 2017 recipient of the Irving J. Symons Community Impact Award, which comes this year with a grant check for $40,000, ahead of its long-time directors stepping down. "The board elected to give out the award now because of the pending retirement of Dennis and Sara Jones at the end of this month — and the extensive contributions they have made to the community with what they have done with Sierra Repertory Theatre," Slocum explains.
The couple spent 37 years leading the renowned nonprofit theatre company in which Dennis served as its producing director and Sara as the managing director. They plan to remain in the area. On August 1, SRT associates Scott Viets and Becky Saunders will step into their respective newly expanded roles as producing artistic director and managing director.
Asked if the decision to bestow the award has been waiting in the wings, so to speak, Slocum says that actually it was not. "Typically we do not usually talk about the award until later in the year," he explains. "However the topic came up — prompted because of the pending retirement — and our board is quite aware of the theatre and their activities…and determined let's do it now' instead of waiting."
Builders Of Enduring Legacies
Bill Polley, Irving J. Symons Foundation president states, "Sierra Repertory Theatre exists today thanks to the vision, effort and sacrifice of founders Dennis and Sara Jones and it seems fitting to give them this award in Irving's name. As Sonora Area Foundation would not exist without Irving Symons, Sierra Repertory Theatre would not be here without Dennis and Sara Jones."
Slocum notes that Dennis and Sara Jones have indicated that the grant award will support general support of the theatre and its programs, including covering costs incurred for bringing in out-of-area artists as well as for the exceptional sets, costumes and other production support that SRT is known for delivering within its productions.
"They were just thrilled and surprised and had not anticipated this at all," Slocum recounts with a smile, adding that the check presentation was made to the Dennis and Sara with members of both boards in attendance.
In a joint statement, the couple thanked the foundation for what they consider a "profound" honor. "Our greatest wish as we retire from Sierra Rep is to leave the organization in good health, so that it may continue to thrive and serve the community for many years into the future," they shared, adding that the gift will tremendously help in attaining that objective.