Update: Containment Hike For Spring Fire In Mariposa County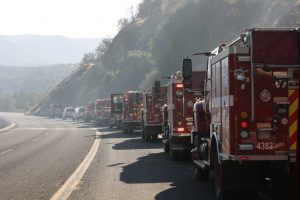 Spring Fire

View Photos
Update at 6:30 p.m.: Firefighters are making great strides in containing the flames of the 225 acre Spring Fire.
Throughout the day the containment has grown from 35 percent Tuesday morning to 50 by noon and 80 this evening. The flames broke out around 1:30 p.m. on Sunday off Highway 49 near Allred Road. All evacuation orders have been lifted. However, there is a residence only restriction on Allred Road from Hwy 49s to Morningstar Lane and Ching Road. One structure was damaged in the fire but there are no additional structures threatened.  Highway 49 has reopened to all travel.
Resources on scene have decreased to 498 personnel, 41engines, 23 fire crews and 6 water tenders. Columbia aircraft have been called off the fire. The cause of the blaze remains under investigation.
Original post at 7:25 a.m.: Mariposa County, CA — Over 550 firefighters remain assigned to a 225 acre wildfire south of the community of Mariposa.
The Spring Fire ignited shortly after 1:30pm on Sunday off Highway 49 near Allred Road. CAL Fire reports that the blaze is 35-percent contained and the forward rate of spread has stopped. One structure was damaged as a result of the fire, and no additional homes or buildings are immediately threatened. An evacuation order is still in effect for nearby homes along Grist and Ashworth roads due to all of the firefighters on scene. There also remains local road closures, including a stretch of Highway 49. What ignited the fire remains under investigation.
A special thanks to community news partner Bob Martinez for emailing photos. Pictures can be sent to news@clarkebroadcasting.com.