Deceased In HWY 108/120 Fiery Crash Remains Unknown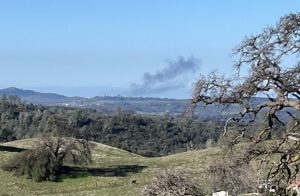 Fatal Vehicle Fire On Highway 108

View Photo
Tuolumne County, CA – It has been nearly two weeks since a fiery fatal crash on Highway 108/120 and the identity of the deceased remains unknown.
The collision happened on Thursday morning, March 16, east of the La Grange Road intersection in the Keystone area. As earlier reported here, the deceased's car went onto the shoulder, and then the driver overcorrected, sending it into the path of a tow truck, driven by, 47-year-old Joshua Selesia of Sonora,  that was carrying another vehicle on a trailer, according to the CHP. The car burst into flames, fully engulfing it and then spreading to the other vehicles. Selesia suffered major injuries and was flown from the scene.
The identity of the deceased is still not known to the coroner's office, as Tuolumne County Sheriff's spokesperson Ashley Boujikian tells Clarke Broadcasting, "We are in the process of confirming the identity through dental records due to the level of damage to the victim. Those records were sent to the Stanislaus County Coroner Facility for identification on March 21st."
The wreck stalled traffic for several hours as the roadway was completely shut down for more than an hour, and then CHP officers directed one-way traffic for several hours until the highway fully reopened.