Jamestown Man Involved In Weekend Crash Arrested For DUI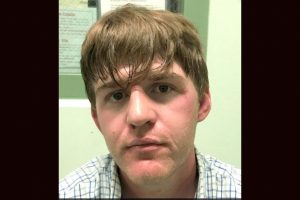 Michael Logan Baker

View Photo
Jamestown, CA – A Jamestown man was arrested for drunk driving after a solo vehicle crash on Highway 49 near Chinese Camp.
The rollover wreck happened south of Highway 108 and Montezuma Junction, west of Jamestown, around 7:30 p.m. on Saturday. CHP spokesperson Officer Steve Machado reports that once on the scene, an officer found a 2006 Chevrolet pickup on its roof and its driver, 27-year-old Michael Logan Baker, out of the vehicle.
Baker was uninjured, and during questioning, the officer noticed signs that he was intoxicated. After further testing, Baker was arrested for driving under the influence of an alcoholic beverage, according to Machado.
A search of the vehicle also uncovered ammunition that Baker, being a felon from a previous arrest, is not legally allowed to have. In October 2017, Baker was arrested for using an asphalt surface as a deadly weapon, as detailed here.