Man Allegedly Used Asphalt Surface As Deadly Weapon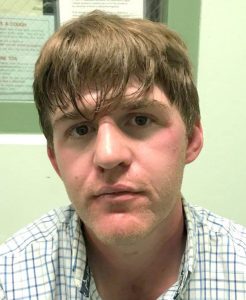 Michael Logan Baker Sonora Police Photo

View Photos
Sonora, CA — On Saturday night Sonora Police responding to a reported physical fight report that they used a Taser on a man they found slamming an unconscious man's head against the asphalt.
According to police the call came in around 9:45 p.m. and they responded to an area near the Discover Life Seventh Day Adventist Church on North Forest Road, where they located the male subject, identified as 22-year-old Michael Logan Baker of Jamestown, straddled over the male victim while repeatedly beating the man's head on the asphalt. A Sonora Police officer subsequently drew and deployed his Taser to subdue and prevent Baker from harming the victim any further after which officials say Baker was taken into custody without further incident.
The male victim reportedly sustained facial and head injuries as result of the assault although there are no further details currently available as to his condition. Booked into the Tuolumne County Jail for felony assault with a deadly weapon and battery causing serious injury, Baker's bail was set at $50,000.