Gun And Meth Land Wyoming Couple In Handcuffs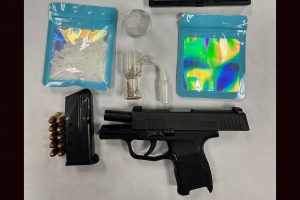 ACSO drug bust in Pioneer

View Photo
Pioneer, CA – A traffic stop in the Pioneer area of Amador County turned up a loaded firearm and drugs, resulting in a Wyoming couple's arrest.
While patrolling the area of Highway 88 on Saturday night near Homestead Road, a deputy stopped a Dodge Durango with a vehicle code violation. During questioning, the driver told the deputy there was a firearm near the front passenger seat. He and his passenger were ordered to exit the vehicle, which they did, and they were detained.
The deputy then searched the vehicle and located a loaded handgun between the front passenger seat and the center console. According to a sheriff's official, it was "well within reach of both the driver and the passenger." K9 Zidan was called in to sniff around the vehicle and signaled there were drugs. During the search, the deputy discovered nearly an ounce of methamphetamine, a digital scale, drug packaging materials, and drug paraphernalia.
The driver, 41-year-old Nickolaus Holgate, and the passenger, 34-year-old Amber Baker, both of Rock Springs, Wyoming, were arrested for drug sales, unlawful possession of a firearm, and other firearm and drug-related charges.