Local Farmers Markets Kicking Off Bountiful Season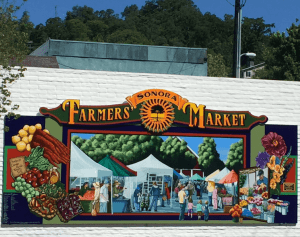 Sonora Farmers Market Mural, downtown Sonora

View Photos
Sonora – Along with this weekend's sunny weather the first of the Mother Lode farmers markets to open is heralding the summer season ahead.
Saturday morning, the City of Sonora's Certified Farmers Market kicks off what will be a 22-week run at its set spot a block off of Washington Street/Highway 49 at Theall and Stewart streets in downtown Sonora. Weekly hours run 7:30 until 11:30 a.m.
Among this market's regular offerings besides fresh local produce is a wide array of foods, handcrafts and a scene — often dotted with street musicians — that is widely described as colorfully fun and friendly. Organizers are touting that opening day will include the presence of "The Blueberry Man" from Valenta Farms, whose season, due to extreme weather and rapidly rising summer temperatures, may not last long. They add that, according to health laws, except for guide, signal and service dogs no pets are allowed in the market areas.
Sonora Police are providing the heads up to late nighters in the downtown area that starting this Saturday the Theall Street parking lot, between Stewart and Shepherd streets, will close between 3:30 and 11:30 a.m. "No Parking" signs will henceforth go up every Wednesday — reminding everyone that there will no parking in that lot beginning a 3:30 a.m. Saturday mornings — after which vehicles must be towed to make room for the market.
Other Markets Opening Soon
Opening at the end of May is the Copperopolis Town Square-hosted farmers market, after which come June, Angels Camp, Tuolumne City and Columbia will all begin to bustle. By mid-June, farmers market season will be in full swing Wednesdays through Sundays for Mother Lode residents and visitors. Below is the list and schedule…
Wednesdays — Tuolumne Open Air Market at Tuolumne City Memorial Park between Pine and Main streets from June 7 through August 30, 4 p.m. until dusk; in tandem with concerts in the park beginning at 6 p.m., sponsored by the Tuolumne Park and Recreation District.
Thursdays – Columbia's Certified Farmers Market in Columbia State Historic Park at Main and State streets from June 15 through September 28, 5 until 8 p.m.; includes handcrafts, unique foods, antiques, kids' activities, docents in costume and music.
Fridays – Angels Camp Farmers Market at Utica Park off Main Street downtown from June 2 through Sept. 29, 5 p.m. until dusk. It includes craft vendors, food, live music and weekly featured winery and beer sales and is sponsored by the Angels Camp Business Association.
Saturdays — Sonora's Certified Farmers Market (as detailed above).
Sundays – Farmers Market at the Square in Copperopolis off Highway 4 and Little John Road from May 28 through Oct. 29, 11 a.m. until 3 p.m., and is sponsored by Copperopolis Town Square.