Butte Fire Burnt Tree Removal Near The Finish Line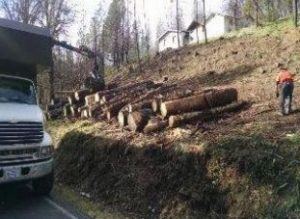 Tree removal

View Photos
Mountain Ranch, CA — Calaveras County officials update crews are close to reaching the 100 percent mark to completion of the Butte Fire burnt tree removal project.
To date 8,079 hazardous trees or 96 percent of the trees have been cut down and hauled away from the burn scar. County officials say that the last 100 or so trees are being removed at a slower pace due to some being on steep slopes and others having several trunks or large branches making it difficult to bring them down. Additionally, hauling crews have removed 38 percent of debris and logs left by the cutting crews. The material was taken to Wallace to be chipped then transported to Chinese Camp to a Biomass Plant, according to county officials.
Currently, cutting crews are working on Doester, Jesus Maria, West Murray Creek, Potteroff, Cave City, Baker Riley, Warden and Whiskey Slide roads. The hours of operation are from 6:30am to 6pm Monday thru Saturday, weather permitting. Anyone with questions regarding tree removal can contact the Hazard Tree Hot Line at (209) 754-6767.