CAL Fire Releases Video Of Daring Hess House Fire Rescues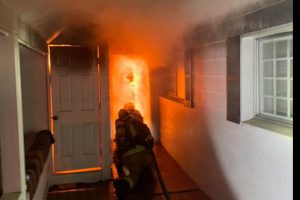 Firefighters heading into a burning home on Hess Avenue in Sonora on Tuesday night
Sonora, CA – CAL Fire has released firefighter helmet-cam video of the daring rescue of residents from a house fire Tuesday night in Sonora.
Firefighters fought the blaze overnight in the 19100 block of Hess Avenue, which began around 10:30 p.m., as earlier reported here. CAL Fire attributes the saving of lives to the quick thinking of residents, including closing bedroom doors and having working smoke detectors, the assistance of area fire agencies, and an unknown community member.
The video in the image box shows how firefighters worked and maneuvered through the 6,700-square-foot smoke and flame-filled house to rescue occupants. CAL Fire says that within five minutes of arriving at the scene, Tuolumne County Fire Department (TCFD) engine 511 verified that two occupants remained in the building. Fire crews from TCFD Engines 513 and 511, armed with hoses, immediately made entry through the side of the house and into an attached living quarter. To their surprise, they were met by an unidentified community member who risked their lives by rushing into the home to rescue one of the trapped residents near the doorway, according to CAL Fire. They recounted that the second resident was discovered in a room behind a closed door, and engine 511's crew "carried the victim through the building where fire activity was increasing and there was zero visibility."
CAL Fire also praised Tuolumne County Sheriff's Deputies and the Good Samaritan for getting immediate treatment for the victims from on-scene medical personnel. Fire officials noted that that assistance and the community member's presence allowed for "expedited engagement of fire suppression efforts." While all seven occupants escaped the flames, one of them was taken to a local hospital to be treated.
CAL Fire shared that the size and unique construction of the home, coupled with the intensity of the fire, required doubling the initial dispatch, including assistance from outside the area. Firefighters worked for around seven and a half hours to extinguish the blaze, and units remained on the scene cooling smoldering debris for the rest of Wednesday.
Assisting resources included Columbia firefighters, the Modesto Fire Department, Twain Harte Fire/Rescue, Mi Wuk Sugar Pine Fire Protection District, CAL FIRE Tuolumne-Calaveras Unit, Manteca District Ambulance Tuolumne Division, the Tuolumne County Sheriff Office, and the Tuolumne County EMS Medic Unit (TCEMS). CAL Fire reported no injuries to firefighters battling the blaze.