New Melones May Fill To The Brim This Year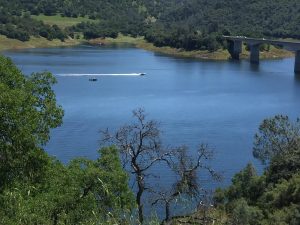 New Melones Reservoir

View Photos
Sonora, CA — Even with increased spring flows now being released New Melones reservoir will likely fill this year, say regional water officials, who share with Clarke Broadcasting the latest on the state of the lake.
New Melones now sits at 85 percent of its total 2.4 million acre-feet capacity, which is 135 percent of its historic average for this time of year.
Tri-Dam Project partners — the Oakdale (OID) and South San Joaquin (SSJID) irrigation districts, which developed and maintain the Donnells, Beardsley and Tulloch water projects on the Middle Fork of the Stanislaus River — say the flow rate of the spring releases has been stepped up in order to catch up. Calendared to happen from April 15 through May 15, the flows began at about 1,000 cfs (cubic-feet-per-second) and over the past two weeks have risen to a rate of 4,000 cfs, which is about 1,500 to 2,000 cfs above the norm.
Wet Winter Wreaks Downstream Impacts
As OID General Manager Steve Knell explains, "The problem for us is Lake Don Pedro has been very full and encroaching upon its spillway and so it is releasing large volumes — and Exchequer [reservoir] is in same boat."
Pointing to some of the visually obvious impacts of the wet winter, he continues, "If you drove out into the Central Valley by the San Joaquin River, there is lots of flooded ground…farmers are not working a lot of fields this year because the water is too high and it has created a lot of levy pressure in the Manteca area. So, New Melones was holding back, and now that things are calming a bit, Melones has to start getting rid of more water."
Drawing from modeling done last month on the watershed Knell says the anticipation is that New Melones levels will peak somewhere between 90 and 96 percent of its capacity this season. The last time levels came anywhere close was back in 2011 — just before the drought set in. "I think this is the third of fourth wettest winter we have ever had — and it is not over until June 1st. It is feast or famine, it seems like in California," he remarks. Stating the obvious he enthuses, "I think it is going to be a great summer for water recreation — the full lake should draw lots of tourists and visitors." (To view the latest images of New Melones click the image box slideshow link.)
Rafters Ready For Wilder Colder Runs 
As the operating criteria for New Melones is that, on Nov. 1, for its winter elevation it cannot exceed a flood pool of more than 1.97 million acre-feet, Knell estimates the reservoir will likely wind up at 82 percent of capacity — roughly about where it currently sits."And it is going to be hard to get there because of how much water is still in the watershed to come in," he confides.
"So [Reclamation]  is going to run the river high all summer…so if you are a rafter, you are going to have a great year. With all the high rivers and stuff, that trip down from Knights Ferry to the Orange Blossom Bridge, which normally takes from five to six hours — you will probably be there in two or two and a half hours." That means instead of running just two trips a day, rafting companies can run five or six, he figures. Too, along with the higher, more intense runs recreaters will be dealing with huge cold water pools, he says, and so should dress accordingly.
Just ahead of the drought when New Melones was close to brim-full, Knell recounts that it took about five successive years of very marginal rainfall to empty. Moving forward, as long as the region gets some above average rain years and does not fall into another drought pattern, lake levels should not become impaired.
Sierras Still Packing A Year's Worth Of Snow
On the far end of the other extreme lurks the thought of a May monsoon, which Knell admits is still a possibility. "A tropical rain event has previously happened on snowpack and it wreaks havoc on the dams — and with as much snow that is in the Sierra, that would be a very difficult thing to deal with — you would probably see everyone using their spillways if that scenario occurred, but you just cannot predict those things."
Of course, he says, reassuringly, "That is why everyone is trying to get their dams down now…if that was to occur…knowing that there is just tons of snow…a whole 'nother year of snow up sitting up there in the Sierras." Following along with the biological operational criteria for New Melones, Knell states that normal flows in a wet year to meet fish requirements is about 539,000 acre-feet. "The good news is that we have a little more inflow and storage that will stay around awhile until we get a below normal year and start drawing upon the storage again," he shares.
As far as management lessons learned from the drought, which left New Melones at nearly dead pool levels back in 2014, Knell is cautiously optimistic. "The drought has taught [the feds] that that flow schedule is not working and so they reinistiated consultation on the biological opinion — to take the lessons of the drought, review them — and potentially come up with a flow schedule that is less robust."
Lessons Learned, Moving Forward?
He opines, "They are going to have to go back and retool that thing to make it more flexible…surely crashing a reservoir in successive dry years, just because the schedule says you do that is not the smartest decision…lessons learned that the drought taught us is that we need to be better reservoir managers."
While the feds are learning that more decision-making is necessary when dealing with successive dry years, Knell says the state water board's proposed water quality control plan, scheduled to come out later this fall, still provides no relief. "We [the stakeholders' groups] are all still there and talking and trying to change their opinion," Knell maintains. "It is not that we cannot, it is just that, as we speak today they have not varied at all on their [required] 40 percent unimpaired flow position."
Speculating that a change for the board might come slow after investing $70 million into creating a management plan that is now on a tight timeline, Knell still says there is time for public input for 45 days after the final version comes out. He confides, "The game is not going to be over until December — and we are going to continue to show them the facts and try to use the real life realities of the drought and say…look what happened…this is why you cannot [strictly hold to a 40 percent unimpaired flow position]. This is reality — this is real life."