40 Acres To Be Set Ablaze In Calaveras County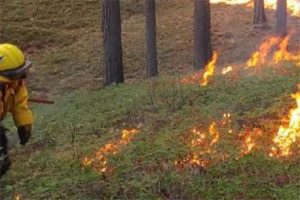 Prescribed burning

View Photo
San Andreas, CA – Smoke may be visible in the West Point area of Calaveras County next week as CAL Fire ignites a prescribed burn.
CAL Fire reports The Winton-Schaad Vegetation Management Program (VMP) site-prescribed burn is a continuation of several years of work in that area. This project is in the northeastern portion of the county, near Winton Road and Spur 15.
About 40 acres of timber understory will be burned during the operation scheduled for Monday, February 20th, from 9 a.m. until 5 p.m., contingent on favorable conditions.
This prescribed burn is designed to reduce forest fuels in strategic locations within the project area, according to CAL Fire. They noted that additional prescribed burns within the project area are anticipated throughout the winter and spring, depending on fuel and weather conditions.