Update: CHP Warns To Stay Home If Possible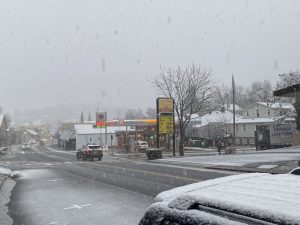 Downtown Sonora Snow

View Photo
Update at 9:03am: Due to the "extreme amount of snow," the CHP reports that it has temporarily closed Highway 4 from Meko Drive in Arnold to Bear Valley.
Update at 8:05am: Creating new traffic concerns this morning, there is now snow falling in some of the lower foothill communities, such as Sonora. Use extra caution today if you must travel. It comes on top of earlier roadway flooding and other hazards.
Original story posted at 7:10am: San Andreas, CA — There is roadway flooding and other traffic hazards across the Mother Lode as an atmospheric river storm system passes through the region.
It is anticipated to be the final major storm system for a while, after consecutive weeks of heavy rain and snow.
The San Andreas CHP Office has put out a statement this morning, "There is flooding, mudslides, and trees down everywhere. Please stay home if possible. If you must go out, slow down, expect multiple hazards on every route you take, and do not cross flooded roadways. The men and women that will try to save you are extremely busy."
There has been roadway flooding reported in parts of Valley Springs this morning. We also reported earlier about concerns related to Murphys/Angels Creek. In addition, a vehicle has hit a snowplow on Highway 4 near the Calaveras/Alpine county line.
In Tuolumne County, there is roadway flooding reported on Sawmill Flat Road, near Parrotts Ferry Road, and at the Highway 49/108 Montezuma Junction. There are also boulders in the roadway along Parrotts Ferry Road near Marble Quarry Road.
Additional road hazards are anticipated to develop throughout the day.
To read the latest on the weather, from the National Weather Service, click here.