More Storms Forecast From Friday Through Tuesday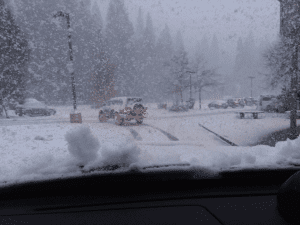 Snow in Arnold

View Photo
A Flood Warning will remain in effect for Mariposa County until 9 AM this morning.
Flooding of rivers, creeks, streams, and other low-lying and flood-prone locations is occurring. Multiple structures are flooded and some sand bagging operations are continuing. Numerous roads remain closed due to flooding. Expect many areas of slow moving or standing water.
The flooding was caused mostly by heavy rain yesterday and other multiple causes.
Turn around, don`t drown when encountering flooded roads. Most flood deaths occur in vehicles.
The National Weather Service has issued a Winter Storm Watch for the western slope of the northern Sierra Nevada from Friday afternoon through Tuesday afternoon. A Winter Storm Watch has also been issued for Yosemite National Park above 5,000 feet from late Friday night until Tuesday afternoon.
Heavy snow is expected to move in late Friday with multiple rounds of heavy snow over the weekend into early next week.
The first full round will occur from Saturday into Sunday and the next round will take place from Sunday night into Tuesday.
The snow levels will range from 5,000 to 6,000 feet on Friday before falling down to 3,500 to 4,500 feet on Saturday night into Sunday.
The total snow accumulations will range from two to six feet, above the 5,000 foot elevation.
Winds could gust as high as fifty mph. Gusty winds could bring down tree branches. Widespread blowing snow could significantly reduce visibility. Travel could be very difficult to impossible.