Sonora City Council Sets Special Meeting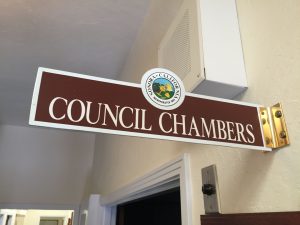 Sonora City Council Chambers

View Photos
Sonora, CA — The Sonora City Council will meet Friday morning to formally accept the grant deed for the Corner Gas property at 852 Mono Way.
We reported earlier this week that the City of Sonora agreed to purchase the property for $1.6-million. $170,000 of the price will go towards demolition costs and $362,000 is for the furnishings, fixtures and equipment.
Demolition of the Corner Gas building is expected to come within the next couple of months. Once the city awards a contract for the widening work it is anticipated to take around 90 days to complete. City officials expect it will be done prior to Sonora Regional Medical Center's opening of its new cancer center and outpatient pavilion.
The special meeting to accept the grant deed will get underway at 11:30am, Friday, in the city council meeting room at 94 North Washington Street. It is the only item on the agenda.