Update: Did A Tornado Touch Down In Twain Harte?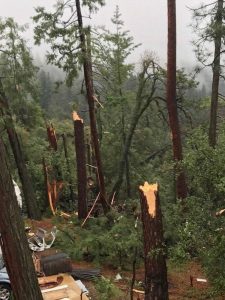 Storm Damage In Twain Harte - Ponderosa Drive

View Photos
Update at 3:57 p.m.: National Weather Service (NWS) Meteorologist Eric Kurth shares what his office officially determined after investigating Tuesday's storm damage in Twain Harte.
As he puts it, "Two of our meteorologists went to Twain Harte today to do a storm damage survey. They determined the damage, which occurred there Tuesday afternoon, was from a microburst. A microburst is a strong, focused downdraft from a collapsing thunderstorm. These can bring powerful straight line winds to the surface. The winds with this event caused damage estimated to have come from gusts up to 105 mph!"
So there we have it, direct from the pros.
Original Post at 3:05 p.m.: Sacramento, CA — While a weird mixed bag of damage-causing weather Tuesday brought thunder, pelting rain and high winds residents were left wondering if too, a twister tore through.
According to Sacramento-based National Weather Service (NWS) meteorologist Eric Kurth, he and his colleagues are still doing some head scratching over the weather incident. Yesterday afternoon his office issued tornado warnings for west of the Mother Lode and noted radar image signatures of strong winds with some rotation approaching the Mother Lode. Around 6 p.m. they received word of a possible tornado with damage in Twain Harte. As reported here, the incident felled numerous trees damaging homes and closing at least two roads; caused power outages — and a lot of speculation.
Subsequently, two forecasters were dispatched earlier today to check out Twain Harte environs. Kurth states that by looking at storm damage impact patterns across the area they will be able to determine whether or not it was caused by a twister.
Post-storm Hypotheses
Although the pair has not yet returned to file a post-storm survey, from the limited pictures his office had already received of trees falling and laying in the same direction, Kurth's office is currently leaning towards the weather event as one involving straight-line winds and/or a downburst or micro downburst.
A downburst is defined as a small downdraft that moves in a way opposite to a tornado. Experts note that these weather events can be every bit as damaging as a tornado and might occur in tandem. Straight-line winds are so named because the resulting damage and debris is generally found laying in the same direction, unlike debris fields that result from rotational winds flinging damage all over.
While tornadoes are uncommon and Kurth could not find any officially recorded incidents anywhere near Twain Harte, northern California has seen a few over the years. Typically, when they happen, he says their intensity generally measures in the relatively weak EF-0 or EF-1 classes.
Tornado Reports Are Up
Statewide, Kurth estimates an average of ten tornadoes a year. "It has gone up over the years but I think a good part of that might be reporting," he explains. While he admits that Tuolumne County is a more unusual spot, "For northern interior California, we see about four or five a year…they are not common but perhaps are more so than people think…they are a lot more easy to spot in the valley than a hilly forested area, where they are very difficult to see unless they are close to you."
During the January storms an EF-0 tornado touched down in South Natomas near Sacramento. Last April, another EF-0 touched down near Waterford in Stanislaus County. While both caused some damage, neither was widespread. Kurth notes in the history of tornadoes across the state to date there are no reported related deaths.
According to Sonora CHP spokesperson Officer Faustino Paulido, while officers from his unit reported seeing what might have appeared to be tornado-related damage from Tuesday's sudden weather incident, no CHP personnel actually saw a funnel cloud or received any eyewitness reports of one. Photos received by Clarke Broadcasting of the storm event did not include any with funnel clouds and damage photos are inconclusive. At this time, no eyewitnesses claiming to have actually seen a funnel cloud touching down have come forward with evidential accounts or recorded images.
Tornado Spotting Tips, Factoids
Kurth suggests when scanning the skies for a possible tornado, look for funnel clouds or possibly what might appear to be a spinning wall cloud, as opposed to low clouds moving in the same direction. "Some of the tornadoes we have are difficult to tell when they are touching because the cloud does not always reach the ground," he points out.
Further describing what exactly to watch for, he explains, "If you see a funnel cloud, try to look below at ground level and see if you see any debris, leaves or things…a debris swirl that you can see, even miles away…can tell you whether it is truly a tornado that is touching the ground as opposed to a funnel, which is spinning — but as long as it does not touch the ground it is not doing any damage."
According to NWS, two areas with disproportional occurrences of tornadoes are Florida and the southern-central US, aka "Tornado Alley, known to often produce violent tornadoes of EF-3 or greater. However, over three-quarters of the twisters that occur across the US are generally weak (EF-0 or EF-1) in nature, and over 95 percent are below EF-3 intensity. As nationwide, over a thousand tornadoes on average happen each year, 20 might be expected to be violent — and possibly one might reach EF-5 status, where winds reach over 200 miles-per-hour and wreak nearly complete destruction.