Update: Storm Wreaks Havoc In Twain Harte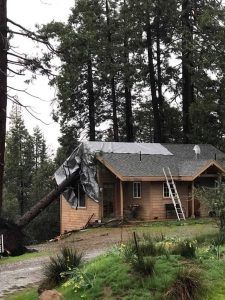 Storm Damage In Twain Harte - Ponderosa Drive

View Photos
Update at 2:30 p.m.: The power has been restored to all 92 PG&E customers in Twain Harte. They had been without electricity since Tuesday afternoon following a vehicle accident involving a tree and power lines coming down on a pickup on Twain Harte Drive near Ponderosa Drive. Those roadways remained closed as crews continuing to clear debris from large fallen oak tree.
Original post at 6 a.m.:  Twain Harte, CA — A heavy storm system wreaked havoc in Twain Harte yesterday afternoon during the two o'clock hour.
High winds brought down many trees, and one even caused extensive damage to a home. Thankfully, no one was injured in the incident. Some residents in Twain Harte tell Clarke Broadcasting that it appeared to be a tornado that passed through, but this has not yet been confirmed by the National Weather Service. The agency had issued a Tornado Warning at the time for southwestern Tuolumne County. The CHP dispatch also indicated the damage appeared like that of a tornado.
This morning there are 92 PG&E customers without power in Twain Harte. Full restoration is anticipated by 3pm today. It is impacting areas along Twain Harte Drive, Lava Road, Hunts Road and Plainview Road.
A special thanks to community news partners Richard Cavil, Nancy Hoyt and Denise Simpson for sending in photos. Pictures can be e-mailed to news@clarkebroadcasting.com.