Sonora Ford Adds Subaru Of Sonora To Its Footprint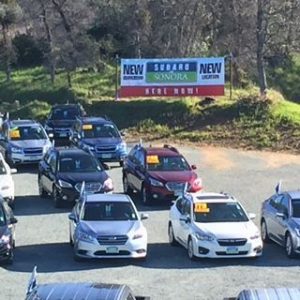 Sonora Ford Adds Subaru of Sonora Dealership.

View Photos
Sonora, CA — If love is what makes a Subaru, a local businessman is promising his passion will soon locally expand the brand by at least a few sizes.
After what he describes as an exciting first week and weekend following his purchase of the local Subaru franchise formerly known as Sonora Subaru, Manuel Prieto, who owns Sonora Ford, admits his expansion plans are ambitious but achievable. "We were ready to move forward and expand our footprint…bring another brand to continue to grow and…the same kind of service that we have with Sonora Ford," he confides.
Although the terms of his agreement with Sonora Subaru owner Ridge Schneider remain private, Prieto shares that customer data and 17 Subarus exchanged between Schneider's business, which will continue to operate a used vehicle sales facility.
Now Known As Sonora Ford and Subaru of Sonora
A series of colorful signs posted at the 13254 Mono Way Sonora Ford facility flag that Subaru of Sonora is now also operating onsite in full swing. "Changing the name slightly allowed us to create a new website, start our own reviews…really start fresh. So anything that you see with "Subaru of Sonora," that is us," Prieto explains.
"We do have plans, within two years, to have a complete service, parts and sales building…right next to our land here," Prieto adds with quiet pride, noting the recent addition of gravel and leveling on the adjacent parcel he acquired for the purpose.
Stating that Subaru customers shopping locally may have been somewhat underserved in recent years by not having a lot of inventory to look at, Prieto shares that, under his franchise agreement with the manufacturer he was able to arrange for additional inventory. As a result, "You are going to see an average of 45 to 50 new vehicles…part of what we worked with Subaru. So we put additional pressure also on ourselves that we will also be able to sell close to that amount…of new Subarus per month so, our goal — is pretty high."
Service, Sales Opportunities Aplenty 
Prieto is far from sweating at the prospect. As local ownership of Subarus in operation is upwards of 4,000, he is optimistic that, under his auspices, the Subaru service and parts department, located adjacent to the Mother Lode Fairgrounds on Stockton Street, will be working hard to earn that business. "The potential is here for us to service every single one of those customers and attract out-of-area business," he says, adding that nine employees there translated into the new operation.
As a brand Prieto describes Subaru a winner for the quality and loyalty it has effectively built, especially among the younger demographics and active set, which adds to its appeal as a good local fit. "Over the last three years it has almost doubled sales…production is up due to customer demand," he points out.
Too, he plans to offer a lifetime engine warranty on all Subaru of Sonora vehicle sales, a value that has translated into part of his new car sales success formula at Sonora Ford. As far as offering pricing competitive enough for Mother Lode residents to stay home instead of heading for the Valley, he chuckles, adding that his plans are to make Subaru of Sonora a destination not only for local but also out of area shoppers.
"Call it the Valley if we are not naming any names of other Subaru dealerships, but I pay the same price in terms of invoice for any vehicle in California," Prieto maintains. "Really, it is the dealer that dictates the pace and…whether he wants to be able to service his community." With an assured grin he delivers a final comment: "We are not going to lose any business to the Valley, I can tell you that!"