Report Finds Increase In Unhealthy Products Sold In Mother Lode Stores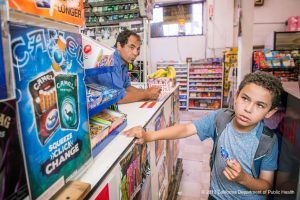 Convenience Store Oakland Maurice Ramirez Photo

View Photos
Sonora, CA — The Public Health Department released data from a survey on the availability and marketing of tobacco in Tuolumne, Calaveras and statewide. Over 40 stores in Tuolumne County were contacted, the survey was conducted over the summer of 2016. The study also questioned in addition to tobacco whether the store sold condoms, and healthy and unhealthy food options.
Findings for stores in Tuolumne County that sell tobacco include:
86% also sell chewing tobacco
66% sell popular brands of "little cigars" or cigarillos
46% also sell fresh fruits and vegetables
52% also sell milk (statewide rate: 33%)
100% also sell alcohol (statewide rate: 70%)
86% have flavored alcoholic beverages like hard lemonade (statewide rate: 70%)
87% also sell condoms (statewide rate 81%), but only 55% sell them on unlocked shelves (statewide it's 37%)
The Calaveras County survey of stores that sell tobacco found:
82% sell chewing tobacco
88% sell popular brands of "little cigars" or cigarillos
53% sell fresh fruits and vegetables (up from 45% in 2013)
35% sell milk (down from 43% in 2013)
82% sell alcohol (statewide rate: 70%)
80% sell condoms, but only 53% sell them on unlocked shelves
Tuolumne County Health Officer, Dr. Liza Otiz says "Tobacco use, an unhealthy diet, physical inactivity, excess alcohol, and limited access to fresh foods and parks, all can make us sick." More information about the overall health of Tuolumne County was released in the Tuolumne County Health Assessment as detailed in our news story here. It was noted that "little cigars" or cigarillos often sell for under a dollar, less than the cost of a candy bar.
Healthy Stores for a Healthy Community conducted the statewide survey as part of a campaign formed by tobacco prevention, nutrition, alcohol abuse prevention and STD prevention partners collaborating to improve the health of Californians by informing them about the impact of unhealthy product availability and marketing in the retail environment.
According to the Centers for Disease Control, e-cigarettes are now the most commonly used tobacco product among youth, surpassing conventional cigarettes in 2014, and more than a quarter of youth in middle and high school have tried e-cigarettes. As Tuolumne County Tobacco Control Coordinator, Kristina Herrera explained e-cigarettes are essentially an addictive drug delivery system that threatens to re-normalize cigarette smoking. In Tuolumne County, 36% of high school juniors and 28% of freshman students have ever used an e-cigarette. This new survey compared its results to a similar study they did in 2013 and found the number of stores that sell electronic smoking devices in Tuolumne has increased from 40% to 72%, in Calaveras it rose from 43% to 64%. Smoking rates in Tuolumne County are among the highest in the state at 26% according to the most recent study done in 2012.
For state and county-specific survey data and more information on Healthy Stores for a Healthy Community, visit: www.healthystoreshealthycommunity.com