Sonora Police Bust Theft In Progress At Walmart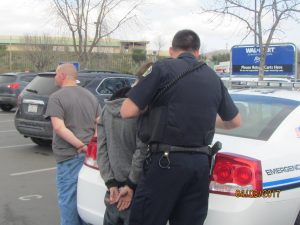 Arrest Outside Sonora Walmart

View Photos
Sonora, CA — Arrests were made over the weekend at the Sonora Walmart as suspects were allegedly trying to coordinate the theft of multiple items.
The Police Department reports that store security officials were watching two suspects on Saturday morning who were trying to steal items. One of the men was removing security devices from merchandise and the other was acting as a lookout. A shopping cart full of merchandise was staged near the front door. When the suspects caught wind that they were being watched by store security, they left the store within five minutes of each other. A Sonora police officer approached the first suspect and watched him toss a tool designed to remove security devises. The second suspect was detained a short time afterwards.
The men are identified as 36-year-old Joshua William Henke and 27-year-old John Earl Fodrie III, both of Modesto. They were arrested and charged for conspiracy to commit a crime, retail burglary and possession of burglary tools. Both are on Stanislaus County probation for theft.
SPD Lt. Turu Vanderweil reports that the items being collected ranged from electronics to dog food.
The Police Department contacted two additional people that officers suspect were involved in the incident.  One of the subjects, Dale Cabral, 35, was found to have a misdemeanor warrant for his arrest. The other, Andrew Tuchsen, 33, gave false identification to the officer. Tuchsen was in possession of a hypodermic syringe and controlled substances, including heroin.
He was also booked into county jail.