Eight Rescue Tigers Now Settled In At PAWS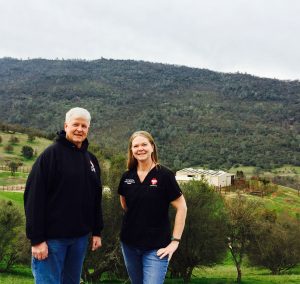 PAWS Co-founder Ed Stewart and Veterinary Director Dr. Jackie Gai outside the center, overlooking the elephant barns.

View Photos
San Andreas, CA – The recent passing of two tigers and a lynx hardly dwindled the wildlife population at the Mother Lode's exotic sanctuary, which has completed a rescue of eight tigers from Colorado.
As reported here, a few weeks ago — during Clarke Broadcasting's visit to the new Pat Derby Animal Wellness Center named for PAWS' late co-founder — Derby's partner and co-founder Ed Stewart, along with veterinarian Dr. Jackie Gai were still in the process of bringing in the "Colorado Eight," as they are dubbed, from a closing breeding facility in that state.
Stewart says all eight are now safely in-house and settled in at the 2,300-acre Ark 2000 sanctuary in San Andreas. They are: Marin, an 18-year-old female; Pharaoh, a 14-year-old male; Sawyer, a nine-year-old female; Bigelow, Nimmo and Wilhelm, all six-year-old brothers; also Morris, a male, and Rosemary Arnot, a female, both five years old.
Due to their failing health issues, PAWS made the decision to humanely euthanize three of their charges in recent weeks. These included two more of the dwindling "Colton 39" tigers rescued by PAWS back in 2004; Majesty and Jay Logan, both estimated to be around 20 years old at the time of their passing in San Andreas, were suffering from renal failure, which is common in wild and domestic cats.
The third, Rufus, nearly 17 years old, was a Canada lynx who, along with his companion Misha, escaped a fur farm death to wind up at an Ontario zoo. Rescued by PAWS in 2012 and housed at its Galt facility, he was suffering from congenital inoperable spine problems that recently worsened.
In other recent adoptions, PAWS shares that, after no one came forward to claim an emu found running loose last December in Valley Springs, it agreed to provide a home for the bird — away from the large exotic wildlife at Ark 2000. "Georgette," as she is now called, is now living with a flock of ten emus and four Simitar Oryx at PAWS' Amanda Blake Memorial Wildlife Refuge in Herald.