New Ambulance Makes Its Debut In Copperopolis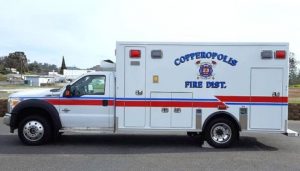 Copperopolis Fire Protection District's New Ambulance. Feb., 2017

View Photos
Copperopolis, CA — An impressively outfitted, newly acquired ambulance is already becoming a familiar sight around parts of Calaveras County.
Delivered earlier this month, it belongs to Copperopolis Fire Protection District (CFPD) and is based at Station #2, central to the community's population base, for greatest response access to the majority of calls from across the area.
CFPD Administrative Officer Joel Schwartz says the new unit significantly enhances the district's ability to provide advanced life support and rescue to the Copperopolis community. A large-compartment ambulance mounted on a Ford F450 4×4 chassis, Schwartz describes its design to be very sturdy with an ability to carry a full array of gear.
Onboard equipment and supplies includes those for medical emergencies as well as extrication and stabilization gear, for use when responding to serious vehicle accidents. The new ambulance also totes self-contained breathing apparatus, forcible entry tools and an imaging camera for fire response operations.
The district anticipates the vehicle will be well-utilized, since nearly 85 percent of its calls are emergency medical services and rescue related. It will be used by Medical Unit 232 (M232), which is staffed with a paramedic and firefighter.
The team covers rescue, advanced life support intervention and care operations, even within the ambulance itself, if there is no shelter available and when other responding emergency transportation modes are experiencing extended estimated arrival times.