Man Threatens Teen With A Gun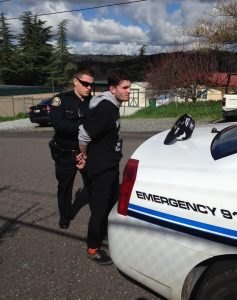 Dakota Smiley

View Photos
Sonora, CA — The victim, a 17-year-old, female says the man put the gun in her face and threatened to shoot her – all over an iPad.
Sonora Police Department officials report the incident happened on Wednesday around 9:22 p.m. on the 200 block of Greenley Road. When officers responded to a report of a firearm brandishing they were met by the girl. She identified 18-year-old Dakota Smiley as the man that had pulled a handgun from the waistband of his pants and put it in her face. The argument stemmed from an iPad that the victim alleged he had taken. Smiley also threatened to shoot the girl but took off after 911 was called and left the iPad behind.
A "Be on the Look Out" was put out to law enforcement agencies. On Thursday morning just after 10:30 Tuolumne County deputies made a traffic stop in Jamestown and found Smiley in the vehicle.  He was arrested and the gun has not been located. Smiley's bail is set at $50,000.
This is not Smiley's first brush with the law. As reported here, in December he was arrested after being found behind the wheel of a reported stolen car. The car was one of two taken on Christmas day at a Sonora apartment complex.
Smiley faces charges of threat and assault with firearm.