A Stashed Loaded Gun Puts Two Behind Bars In Sonora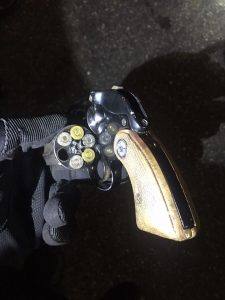 Loaded revolver found during traffic stop

View Photos
Sonora, CA — A driver following too closely grabbed the attention of a CHP officers and set the wheels in motion for an arrest.
While traveling on Mono Way just east of Tuolumne Road on Sunday around 4 p.m. an officer pulled over a 2001 Volkswagen Jetta for tailgating. Inside the car was the driver, 28-year-old Ronald Powell McCurdy and passenger 25- year-old Paige Lee Henderson both of Oakdale. In the back was 24-year-old Stephen Alan Frederick III of Bullhead City, AZ.
A records checked revealed that McCurdy had just been released from prison less than a month ago and both men were on searchable felony probations. An inspection of the vehicle discovered a loaded Colt Agent .38 revolver stuffed in a sneaker on the left side floorboard, which was within reach of all the car's occupants.  A concealed firearm violates both of the men's probation, according to the CHP.
Henderson was cited and released on scene. McCurdy and Frederick were taken into custody for felons having a loaded firearm.