A Fiery Town Hall In Sonora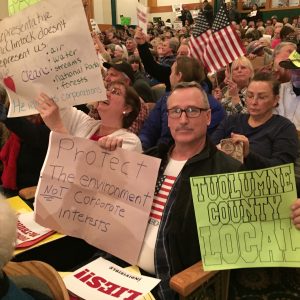 McClintock's Town Hall in Sonora

View Photos
---
Sonora, CA – With the Sonora High School Auditorium filled to its 562 person capacity, the city's fire marshal was forced to tell the other nearly two-hundred waiting in line outside that they would not be allowed into the theater for Mother Lode Congressman Tom McClintock's Town Hall.
Even before McClintock arrived, a large group of people chanted "this is what democracy looks like." (Click here for video) Many waived signs. One stated "Dump Tom McTrump," another "No Ban No Wall," while others read "We support Tom." Some signs that stood out called for "Respect" and another with a single word in red letters that stated "lies."
As McClintock entered the auditorium he was met with cheers and jeers. (Click here for video.) He started off praising the large crowd and called on people to "talk to each other instead of shouting at each other," which did not last long. The first audience question came from a Vallecito woman. She wanted to know if he would support a bi-partisan investigation into the Trump Administrations dealings with Russia. It was a common question asked throughout the night. To that repeated question McClintock answered,  "I am not going to participate in an effort to delegitimize this election or delegitimize this president. [Cheering and booing] That is what elections are all about. I understand you're very upset that you lost the election that Donald Trump won, but I just ask you to consider the fact that there are many Americans that were just as concerned about Barack Obama." (Click here for video of their exchange.) The crowd erupted with clapping and booing, which prompted a Sonora woman to defend McClintock, "I get we're all here on different sides but be respectful. Let him finish when he's responding to questions. Be respectful to our congressman." (Click here for video of their exchange.) Another woman angrily defended McClintock's stance on Russia bringing up the Benghazi attack questioning, "For all of you who are so concerned about Russia. Did you ever once ask what the President of the United States was doing for 13 hours when Chris Stevens and Shawn Smith and others were massacred?" [Loud clapping, cheers and booing] (Click here for video of their exchange.)
While the crowd got loud at times, and the congressman was heckled often with others yelling at them to "shut up," it remained peaceful. The questions ranged from saving social security and Obamacare to immigration to managing federal lands. One woman asked if the congressman would allow fracking in Yosemite, which McClintock fired back "hell no" but stated that he approved of it in the Alaska tundra. (Click here for their exchange.)A woman from Groveland asked about stopping Governor Jerry Brown from signing sanctuary cities legislation. McClintock responded, "There is a strong consensus in congress that any jurisdiction that refuses to enforce federal law should not be receiving federal law enforcement funds." (Click here for video of their exchange.)
A comment that got the loudest cheers and brought many to their feet dealt with the defunding of Planned Parenthood. A Sonora woman defiantly stated, "It looks like the first step in pushing women back. I want to tell you something, I am 82-years-old. I and millions of women in this country will not be pushed back sir." [Loud whistling and cheering]  (Click here for video of their exchange.)
In the end, McClintock got praise from some like Charlie Habekost of Sonora, stating, "I think he did a stellar job. It was a tough audience…you've got the loud mouths that won't let him speak but overall I think it was a positive experience. However, others were not impressed. Julie Orth of Sonora echoed others who accused McClintock of not representing all his constituents, criticizing, "He's just going right along with his party line supporting Trump. He doesn't want to investigate ties with Russia. There should be no reason for him to be opposed to find out if those allegations are true."
There were several local political leaders in the audience including Tuolumne County Supervisors, Evan Royce, Sherri Brennan, Karl Rodefer and Randy Hanvelt.
Hanvelt had this reaction, "I'm impressed with the turnout. I'm impressed with how the congressman kept his cool. But I'm a little embarrassed…it was really quite disrespectful. If they had not been so disruptive, and by the way both sides were a little guilty, if they had asked a question and received an answer; we would have had a lot more information transferred and that would have been more healthy."
You can hear more of Congressman McClintock's views when he joins us on Mother Lode Views this weekend.
(Click here for a question on the immigration ban)
(Click here for question regarding social security)
(Click here for an additional Russian investigation)