Detour Map Details Alternate Routes During Don Pedro Spillage Operations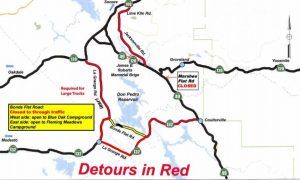 Bonds Flat Rd,Detours Map Updated Feb 22, 2017

View Photos
Sonora, CA — As Turlock Irrigation District (TID) plans to continue emergency flows from Don Pedro Reservoir spillway for more than a week, Tuolumne County officials have released an updated detour map for travelers.
According to the Tuolumne County OES (Office of Emergency Services) Office, it currently has nothing additional in the way of news to add to TID's update from yesterday afternoon. At the time, TID spokesperson Jason Hicks indicated that the utility had requested a deviation from the Army Corps of Engineers that would allow it to maintain a spill of 16 to 17-thousand cfs (cubic-feet-per-second) until the reservoir reaches about 815 ft. Based on current weather information and inflows, he estimated approximately nine to ten days would be needed.
Hicks stated, "TID would rather continue flows at this current level as opposed to having to close the spillway gates immediately and then risk a higher chance of opening them repeatedly over the next few weeks to the next two months."
As reported here, the spillway, which has not been used since 1997, opened at 3 p.m. Monday to relieve Lake Don Pedro's nearly brimming waters due to this winter's deluge of wet weather. Portions of Bonds Flat Road in Tuolumne County, between J-59/La Grange Road and Highway 132, were removed to facilitate the spillway opening. That stretch will remain closed until sometime this summer when repairs can be made.
Lake Don Pedro remains closed to boaters while the spillway gates are being used. You can click in the left image box to view the detour map. It shows a hard closure of Bonds Flat Road to through traffic. The west side is open to Blue Oak Campground and the east side to Fleming Meadows Campground.
Alternate routes, as marked in red, are Jacksonville Road between Highway 108 in Sonora and Highway 120/49 by the James E Roberts Bridge at Don Pedro; also J59/La Grange Road and Highway 132 between Highway 120/108 Jamestown and Coulterville.