Additional Costs For Juvenile Detention Facility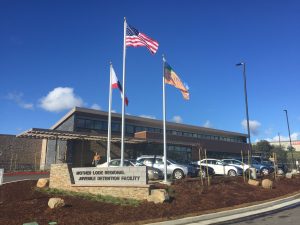 Mother Lode Regional Juvenile Detention Facility

View Photos
Sonora, CA — The cost to build the Mother Lode Regional Juvenile Detention Facility has increased since the original construction contract was signed.
Deputy County Administrator Maureen Frank gave an overview of spending at Tuesday's board meeting. In March of 2009 the county received a $16-million grant from the state to construct the center. In April of 2015, the county agreed to pay F&H Construction $15,361,000 to build the facility.
Since that that time there have been five change orders that have increased the cost. The first was $145,347 for the unexpected amount of rock and soils that need to be removed from the site. A second change order of $169,516 was for the removal of additional rock and soil. $24,441 was needed for unforeseen electrical work, roof drains, revisions to trespa panels, changes to the steel trellis and revisions to the speakers. The fourth change order of $135,560 was for structural changes to the tier deck and the relocation of fire sprinkler heads. The most recent change order, approved yesterday, included things related to case work, needed improvements required by the state Fire Marshall's Office, and replacing toilets. New state rules are requiring the angles of the toilets be changed to improve privacy, so the toilets originally installed need to be replaced.
Frank noted that following yesterday's change order of $391,131, the revised contract amount is around $15.8-million, which is still under the $16-million grant award. It was noted that one final change order will likely come at a future date, and the goal is to stay under the $16-million figure so that general fund revenue is not needed for the facility's construction.
The official ribbon cutting was held in January for the facility, but there are not yet any juveniles inside. Final construction will be wrapped up around the first of the month and the center is anticipated to open on Tuesday, March 7.