Update: Don Pedro Spillway Flows Under Abundance Of Safety Precautions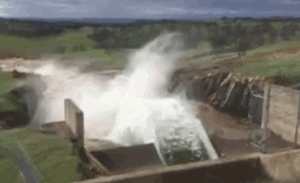 Emergency Spillway Opens At Don Pedro Reservoir

View Photos
Update at 7:15 p.m.: Turlock Irrigation District (TID) plans to continue the flow from the Don Pedro Reservoir spillway for more than a week. The utility's spokesperson Jason Hicks indicates that the utility has asked for a deviation from the Army Corp of Engineers to maintain the 16 to 17-thousand cfs (cubic-feet-per-second) until the reservoir is lowered to about 815 ft. He adds that based on current weather forecast and current inflows that would  be approximately nine to ten days. Hicks explains, "TID would rather continue flows at this current level as apposed to having to close the spillway gates immediately and then risk a higher chance of opening them repeatedly over the next few weeks to the next two months." (Please read further details on the spillway flows below.)
Original post at 3:08 p.m.: Turlock, CA — The waters at Don Pedro Reservoir, nearly brimming yesterday, continue to spill into the Tuolumne River under the watchful eyes of a multi-agency relief effort.
Turlock Irrigation District (TID) is reporting that it continues to monitor its use of a single controlled spillway gate that, in cooperation with the US Army Corps of Engineers and Stanislaus County OES, opened Monday at 3 p.m., as reported here.
Releases from the Don Pedro power plant are measuring total outflows to the Tuolumne River from Don Pedro Reservoir of approximately 16,000 cfs (cubic-feet-per-second). TID officials state that the controlled spillway gate is operating as designed. They add that those living and/or working along the Tuolumne River, out of an abundance of caution, should take whatever steps are necessary to protect property and livestock as river levels will quickly rise.
Lake Don Pedro remains closed to boaters while the spillway gates are being used. In addition to the spillway closure, Bonds Flat Road is also closed beyond Fleming Meadows and Blue Oaks campgrounds as a public safety measure.
In the interest of public and equipment safety near the river, TID began de-energizing power lines along the Tuolumne River channel on Monday and states that power will be restored when it is safe to do so. Restoration began earlier today after TID re-inspected areas not impacted by flooding. Officials are continuing to monitor and re-evaluate power restoration timelines, based on current and forecasted river levels.