New CA Laws Go Into Effect This Weekend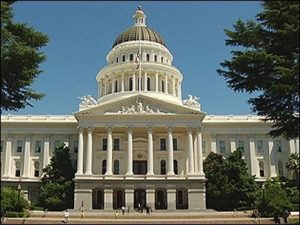 California Statehouse

View Photos
Sacramento, CA — 898 new laws will go into effect in California when the calendar turns to 2017.
Some of the high profile laws include an increase in the minimum wage, new gun restrictions and protections for those helping animals out of hot vehicles.
Earlier this year Governor Jerry Brown signed legislation to gradually increase the minimum wage to $15 an hour by 2022. Businesses with over 26 employees must increase the minimum wage to $10.50 in 2017, and those with fewer employees have an extra year to implement the change. California is one of 19 states increasing its minimum wage this year.
Related to guns, you will no longer be able to purchase semi-automatic rifles that have a bullet button allowing for quick removal of an ammunition magazine. Also, anyone that files a false report about a gun being stolen will face a misdemeanor charge and a potential 10 year ban on owning a firearm after a conviction. In addition, law enforcement officials, and concealed weapon permit holders, will be mandated to lock firearms in a safe box, or trunk, if left in a vehicle.
New protections go into effect for anyone that wants to save an animal trapped in a car from heat or cold. As long as you call authorities first, you will not be held legally liable for breaking into a car. Also related to animals, shelters will no longer be able to use carbon monoxide gas chambers for euthanizing.
Related to healthcare, there is a new law designed to eliminate costly surprise charges. Specifically, if you go to your insurance's in-network hospital, you can no longer receive larger "surprise" charges if the doctor or healthcare worker treating you is in not in the network.