Police: Keep Clear Of Campaign Signs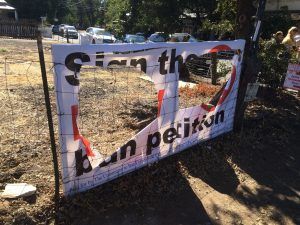 Vandalized campaign sign, October 2016

View Photos
Angels Camp, CA — Angels Camp police are now calling an alleged theft of signs promoting non-support of a citizen-proposed cannabis cultivation referendum as a civil matter.
According to Angels Camp Police Chief Todd Fordahl, several "No On Measure D" signs reported as missing last week (as covered here) were turned in to his department by the individual who purportedly took them down — at the request of the property owner. The chief further states that an apparent civil dispute is ongoing as to whether anyone initially even had permission to install the banners.
Now reclassified as a civil issue, he says the criminal investigation of the matter has been closed. However, he adds that an informal report not requesting a police investigation has been made of vandalism to a "Yes on Measure D" banner posted near the intersection of Highways 4 and 49. Another local resident, Mike Preston, recently sent Clarke Broadcasting photos of vandalism done to "No On Measure D" and supportive Donald Trump for President banners (which can be viewed in the left image box).
Like theft, vandalism is an arrestable offense, as the chief points out. Both are "wobbler" laws in California, meaning infractions may be prosecuted as misdemeanors or felonies, depending on the particulars and the criminal record of the accused.
Under Penal Code 594 PC, the state's vandalism and graffiti law, maliciously defacing, damaging or destroying someone else's property, if worth less than four hundred dollars' worth, is punishable by penalties of up to a year in county jail, and/or a maximum $1,000 fine. If $400 or more in damage has been done, sentences of one to three years may be imposed, potentially along with fines of up to $10,000 — or even more if the damage is extensive.