Police Warn Against Carrying Off Campaign Signs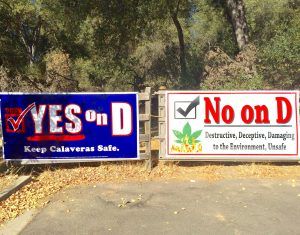 YES and NO on Measure D Calaveras Cannabis Regulation signs near Greenhorn Creek, Angels Camp

View Photos
Angels Camp, CA — A month before Election Day, police, seeing a trend of disappearing "Vote NO On Measure D" Cannabis Regulation signs, are alerting would-be absconders that taking them — or any other legally placed campaign sign — is an arrestable offense.
The Angels Camp Police is investigating the theft of several of these signs. In fact, over the past weekend, eight were taken from two properties located near the intersection of S. Main Street and Highway 4 and the intersection of S. Main Street and Mark Twain Road.
According to Chief Todd Fordahl, each sign is valued at about $90. That means the total of just the eight reported as missing is around $720. Grand theft, under state law, includes taking property worth $950 or more. It is a "wobbler offense," meaning that it can be considered either as a misdemeanor or a felony; depending on the particular facts of the case as well as the accused's criminal history. Misdemeanor level penalties for those convicted of the crime include fines and up to a year in county jail.
Angels Camp Police are requesting that anyone with information related to the thefts call the department at 209 736-2567 or 209 754-6500; those who see a theft in progress should call 911.